Casual Living Conference February 2015
Casual Living Conference February 2015
Casual Living conference highlights best practices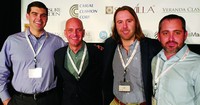 Panelists on Web Winners: Successful Strategies for Selling Casual Furniture Online included John Reisen, left, Amazon.com; Ron Hilton, Overstock.com; Ryan Fitzpatrick, Wayfair.com; and Tim Newton, Leader's Casual Furniture.
ORLANDO, Fla.
— More than 180 retailers, manufacturers and designers traveled to Florida on Feb. 18 to attend the 2015 Casual Living Conference here and although the weather was chilly, attendees agreed that the current interest in and future potential of the outdoor market is red hot.
 "This is a lifestyle, not a need," said Wendy Araujo, manager of the Leader's Casual Furniture Orlando store.
Early arrivals to the conference played golf, attended a cocktail party sponsored by Agio and took a retail tour of Leader's Orlando location, a 4,200-square-foot store that is one of the smallest in the 18-store chain. Leader's Managing Director Tim Newton said the company uses the space effectively by featuring accessories on walls, floors and table tops.
In a keynote address, John Moore, a marketing professional who has worked on successful campaigns with Starbucks and Whole Foods, told the audience that achieving top performance requires adaptation to "the bigness of smallness" philosophy.
"The growth paradox is that the smaller you are, the bigger you must look," Moore said. "And the bigger you are, the smaller you must get…. The best brands never start with the intent of building a great brand."
Noting that 27% of consumers responded that they would pay an additional 15% or more to have a superior customer experience, Moore said that 55% of consumers recommend companies because of customer service.
"Products and programs do not grow sales, only people grow sales," Moore said. "And customer service is not the same as customer experience. Customer service starts when the customer's experience falls apart."
Insights on design
During the Designed to Win session, designers Libby Langdon and Sofia Joelsson talked about the importance of recognizing outdoor space as another room of the consumer's home. Joelsson said retailers and manufacturers should provide designers with the information they need to take care of client requests while considering specific outdoor needs like heavier products for high-end rooftop projects. Langdon added that the purpose of the space should remain an important consideration as well.
"Outdoor living is all about entertaining," Langdon said. "The customer is not just one person, but all of their family and friends.
"Think of outdoor spaces as extra square footage to their homes," she said. "When you can show a complete picture, you will have a customer for life."
Retail strategies
Steve Lush, president of Florida-based Robb & Stucky, and Kyle Johansen, executive director of merchandising for HOM Furniture in Minnesota, took the stage to talk about the outdoor category at retail.
Lush said outdoor is merchandised year round at Robb & Stucky and as a lifestyle rather than by brand. He added that turnkey solutions are offered for many of the store's customers, primarily affluent retirees and second-home owners.
Johansen said that new products help keep the outdoor category fresh.
"We need new and innovative products to get customers excited," he said. "We do have outdoor kitchens and Big Green Egg, which are unique for our customers and allow great repeat visits. Everyone is asking for fire tables right now."
Johansen added that HOM is focused on growing its e-commerce business and maintaining a commitment to marketing.
"In every recession, companies that continue their marketing and advertising activities through the worst times stood out from competitors since marketing is often the first area to be trimmed," he said. "We have 1.2 million hits a month on our website, and we want to grow into e-commerce and do a better job with it."
Retailers need to match the passion and enthusiasm of consumers, according to Ryan Bloom, founder and owner of Montreal-based outdoor retailer Urban Bonfire.
"Barbecue is a common denominator cuisine, and celebrity chefs are the new rock stars," Bloom said. "Outdoor kitchens have a positive ROI (return on investment) and consumers have a much greater appreciation of value post recession."
Web winners
Selling online adds a new ingredient to the outdoor retail success story. John Reisen of Amazon, Ryan Fitzpatrick of Wayfair, Ron Hilton of Overstock.com and Newton of Leader's Casual Furniture shared some of their business strategies during a panel discussion that prompted numerous questions from attendees.
"In terms of outdoor, we look at it as an extension of the living room," Fitzpatrick said. "It is not a category a customer has to buy. They buy it because they want it."
Hilton said consumers are spending more time at home, fueling growth in the category.
"They are willing to expand their living areas," he said. "I think (outdoor is) becoming more relevant to a broader audience."
Reisen said that Amazon attracted 109 million unique U.S. visitors in December, noting that busy lifestyles prompt many consumers to shop from home.
Newton said that Leader's adheres to a key strategy online and in the store. "We sell an outdoor lifestyle," he said. "We can make a life better by selling a durable outdoor lifestyle of their dreams."
Kent Panther of marketing firm Wray Ward wrapped up the first day's presentations with an overview of marketing strategies, measurement tools, and paid/shared/social media options.
"Sixty-six percent of marketers are overwhelmed by the amount of data available for analysis," Panther said, urging attendees to identify their target customers and to measure which strategies are most closely tied to meeting business goals.
Following Panther's presentation, the International Casual Furnishings Assn. moderated three roundtables. Jackie Hirschhaut, ICFA executive director, provided an overview of each session and noted that ICFA will host additional roundtable sessions at the September Casual Market in Chicago.
Award winners
During Thursday's awards dinner, Casual Classics Furniture Group was recognized as Casual Living magazine's Retailer of the Year. The group has 58 member owners and represents nearly 200 stores around the U.S.
Casual Living's Supplier of the Year award was presented to Kathy Juckett, CEO of Telescope Casual Furniture. The company recently marked its 112th anniversary and is managed by the sixth generation of the founding Vanderminden family.
Industry analyst Jerry Epperson of Mann, Armistead & Epperson discussed economic influences on the outdoor category. He said that current technologies are creating more desire for at-home time among consumers and that the economy and housing sectors have improved, bringing renewed interest in home-related capital investment.
The final presentation at the conference featured Danny Jelley, senior vice president of product design and development for Veranda Classics; Laurie Jenkins, designer and founder of Laurie Bell; and Amy Rochester, design/style manager for Glen Raven Custom Fabrics, the manufacturer of Sunbrella performance fabrics, discussing trends. The panel said that color and versatility of design are key focuses for designers in 2015.
Rochester said casual industry designers and manufacturers are really trying to "fuse the classic with something modern to create something new and fun."