Our Story
ABOUT US: Established in 1971 in the heart of the fast growing West Florida Market, Leader's Casual Furniture began as a single modest showroom in St. Petersburg, Florida. Please enjoy this 3 minute video of our growth!
Yes, Leaders has come a long way since the first small showroom in St. Petersburg. Now, more than 40 years later, we have 19 Showrooms, a new state-of-the-art corporate office and a 150,000 square foot distribution center. Leader's reputation for selection, value and full customer satisfaction continues to grow in our ever expanding marketplace. Our growth has been steady and consistent, but always under control. "This rock hard management philosophy has worked out very well so far, and we believe that it will carry us successfully well into the future."
CASUAL FURNITURE IS OUR PASSION:
Leader's specializes in Rattan, Wicker, and Patio Furniture. This entire selection is fondly referred to as "Casual Furniture". Many homeowners and designers enjoy the casual comfort and durability that tropical rattan and wicker furniture provide to their decor, as it reflects their relaxed lifestyle. This is the niche where Leader's has served tens of thousands of very happy and loyal customers over the years. We are the perfect place to pick-up a unique coastal gift or some tropical accessories, as well as first quality casual furnishings for your entire home INSIDE and OUT.
Our buying team travels the world in search of casual furniture and accessories of the utmost quality and value. The merchandise carried at Leader's is a fine tuned selection of domestic products from famous name manufacturers with tremendous finish and fabric selections, complemented by a vast array of direct imported products hand selected and designed by Leader's experienced staff. We use a select number of suppliers that are "very important to us, and we in turn want to be important to them. The cooperative effort between Leader's and their suppliers has been and will continue to be at the heart of our success" states Ashley Newton, Purchasing & Advertising Director.
HAND CRAFTED QUALITY AND VALUE:
The uniqueness of our product allows Leader's to be a special place to shop. We pride ourselves on providing you with a variety of unique choices, most of which are handmade to our strict quality standards. From hand cast aluminum to hand woven wicker, we work diligently to ensure our assortment includes items that will fit everyone's budget. Leader's Casual Furniture is the largest volume casual furniture resource in the Southeastern USA. Thanks to volume purchasing and direct importing, we are able to offer the highest quality and most beautiful designs at guaranteed lowest prices... WE PROMISE! Without a doubt, each customer will find something in our store they have never seen in another home furnishings showroom.
"A GOAL WITHOUT A PLAN IS JUST A WISH" We strive to adhere to the following principles to ensure your happiness and our continued success:
Accomplish 100% Customer Satisfaction while providing our

customers

with long-term quality and value in each product they purchase.

Fully take advantage of emerging technologies.
"Our computer system can identify and locate each unique item, no matter where it is in our many showrooms and extensive distribution center. This degree of automation is necessary to compete with the trends in retailing today" states Tim Newton, Managing Director. "I believe only companies that can receive, store, retrieve and deliver merchandise in the most efficient way will be able to compete in the coming years. We will make sure we remain on the cutting edge of this technology in our industry."
Create a positive work environment for our 170 plus employee including implementing the motivation, training and tools needed to be a success!

Be the leaders of our industry implementing innovation rather than reacting to others.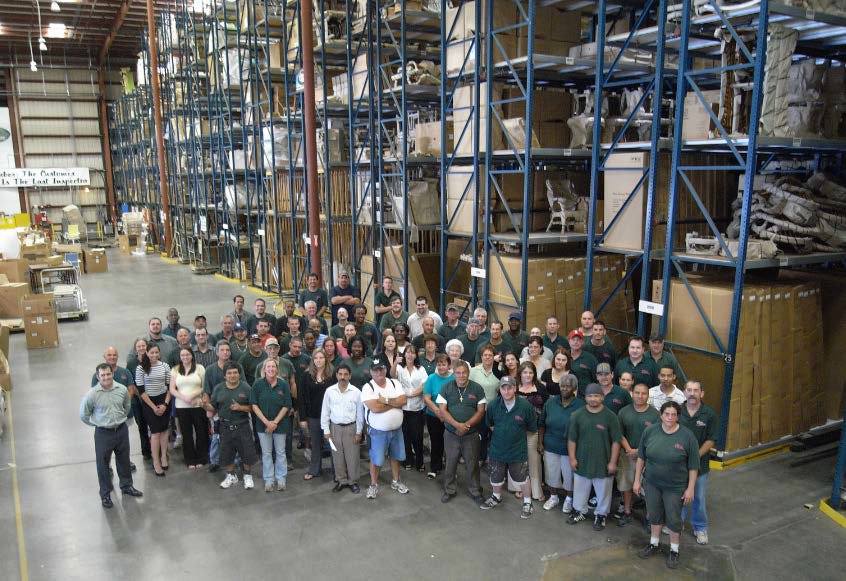 IT'S ALL ABOUT YOU! We take great pride in satisfying our customers and diligently review customer feedback to ensure that we are accomplishing, and usually exceeding, your expectations. By doing this we are able to maintain a near perfect customer satisfaction record... of course always striving for perfection!
Keeping in touch and interacting with our customers on a daily basis via social media has been great fun for us! Whether getting opinions on new product, providing design tips or inspiring photos of our happy customer's design accomplishments, we thoroughly enjoy hearing from you. We will continue to challenge ourselves to share relevant content that inspires you daily via Facebook, Pinterest, Twitter, Youtube, Google+, or Linkedin.
Jerry Newton, President, states "communication and customer satisfaction is the key in a multi-store retail company. Every employee out there is representing our company in each and every customer contact. We have to be sure that we listen to what they have to say and that they are all aware of how we want the company represented. We can have all the great ideas in the world here in our corporate headquarters, but unless we convey those decisions and the energy out to the front line, we will fail in the customer's eyes."
BIG OR SMALL WE SUPPLY ALL! Commercial sales are always welcome! Our reputation for quality, volume and value has established an ever growing contract trade. Our products have earned the enviable reputation necessary to be seen in many fine commercial establishments throughout the USA and the Caribbean. Contract sales are welcome and Leader's contract sales staff is prepared and pleased to quote special prices on large commercial orders. To see a map of the businesses to which we proudly provide casual living products and furniture, please visit our Commercial Sales section.
INDUSTRY RECOGNITION
1989 - Leader's selected as one of the Top Ten Casual Furniture retailers in the country

1990 - Casual Furniture Manufacturers of America Voted Leader's as the Best Casual Furniture Retailer in North America

2012 - Casual Furniture Magazine's Retailer of the Year
We heartily invite you to shop in our "Internet Showroom" and take advantage of the best selection and value in the casual furniture business. Next time you're in Florida, please visit one of our Showrooms to experience the full selection of our unique home furnishings.